Program Spotlight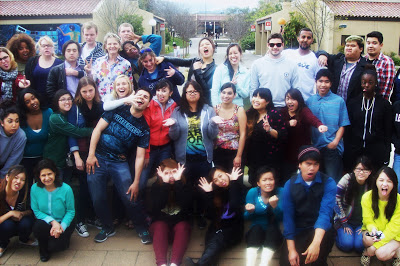 COMM Night
Tuesday, June 4th from 6:30-8:30pm in Conference Rooms A and B
COMM Night will showcase De Anza students, examine the power of communication, and investigate various social injustices in the world.
We're looking for students interested in presenting slam poetry, songs, dances, narratives, oral interpretations, prose, or speeches related to equity or social justice. Interested performers can email Stephanie Anderson at andersonstephanie@fhda.edu

Mission and Goals
Our Mission
The ways in which we communicate contribute significantly to the quality of our lives. Our Communication Studies Department faculty seek to create a stimulating and supportive learning environment and to meet the diverse and changing needs of our students, our department, and the college. We are here to help students gain greater knowledge and skill in Communication Studies as a means to developing their own potential. In our classrooms we celebrate our students diverse cultures, traditions, perspectives, voices, and goals. We are constantly updating our courses, exploring new ideas, and sharing information to foster our own professional growth and to provide the best possible opportunities to our students.
Our Goals
Value every student as an individual with his/her needs, goals and learning styles.
Challenge our students with a spirit of inquiry, discovery, dialog and reflection.
Create an environment where diverse cultures, abilities, and needs are respected and where differences offer productive opportunities for learning and personal fulfillment.
Develop a dynamic curriculum that reflects both traditional and emerging schools of thought in our discipline.
Provide every student with opportunities to simultaneously acquire knowledge and develop skill through practice.
Help students become critical and independent thinkers and problem solvers by providing opportunities to work in self-regulated teams in order to develop small group collaboration skills, listening, deliberation, conflict management, argumentation, problem solving, and decision-making.
Remain faithful to our task of promoting personal integrity.
Provide opportunities for students to successfully use technology for research and developing presentations.
Prepare students to use effective communication skills in their personal and professional lives.
Raise consciousness of our global interdependence and responsibility.