Home
Welcome to the Child Development Center, De Anza College

The Child Development Center, De Anza College (CDC) serves over 120 children of college faculty, staff, students, and the families from the community. Our qualified teaching faculty and staff are dedicated to achieve the highest quality of early childhood care while working with the children and their families. Through the partnerships with parents and the Foothill-De Anza Community College district, CDC continues to serve the mission of the district.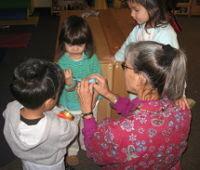 The De Anza Child Development Center(CDC) is dedicated to providing a quality learning environment that is respectful and supportive of all children, families, students, and the community.



Our program provides an inclusive environment that recognizes children's varied abilities, unique interests, special needs and learning styles. We believe children learn from each other and that each child has unique stenghts and challenges as members of a learning community.




Our Core Values
The De Anza College Child Development Center values:
Inclusion of all children in the programs
Developmentally appropriate standards and practices
Diversity
Meeting the highest standards of the profession
Being supportive of children, families and students
Educating students, parents and children
Honesty, integrity and ethical behavior
Creating a sense of community