2019 Swim and Dive State Championships
De Anza College was proud to host the
CCCAA State Swim and Dive Championships
on May 2-4, 2019, featuring
men's and women's
teams from
all over California
.
Due to concerns over COVID-19, the California Community College Athletic Association

–

the governing body for athletics at De Anza and other community colleges

–

has canceled all spring sports, as well as practices outside of regularly scheduled classes, and all nontraditional sports seasons.
About the Program
The Swimming and Diving Program is open to any De Anza College student. For those who wish to compete, you are required to be a full-time student. This status requires at least 12 quarter units (10 of which must be academic) for the coming season. Sophomores or students who wish to compete a second year must have completed their first year academic requirements. Those who do not wish to compete may train with the team as long as they agree to work at all home meets.
A competitive swimming background is not required to join the team. We suggest that all students who want to participate take PE 032P, Techniques of Intercollegiate Swimming, during the fall quarter.
The De Anza College program encompasses all levels of ability, skill and experience. We look for terrific team experience that allows everyone to contribute. While attendance at all competitions are mandatory, each student will work out a practice schedule tailored to individual needs. We strongly encourage everyone to come out and join us!
Conference schedule: 2018 will be posted soon. Meets begin in February and Coast Conference Invitationals begins in March. Meets are held on Fridays and Saturdays.
Lunchtime Adult Open Swim!
Take a midday dip or get your workout in De Anza's Olympic-size pool! Monday to Thursday, 12-1:30 p.m.
Special introductory price $45 a month (discounts available for military veterans and De Anza employees and retirees). Locker rooms available, lifeguard on duty.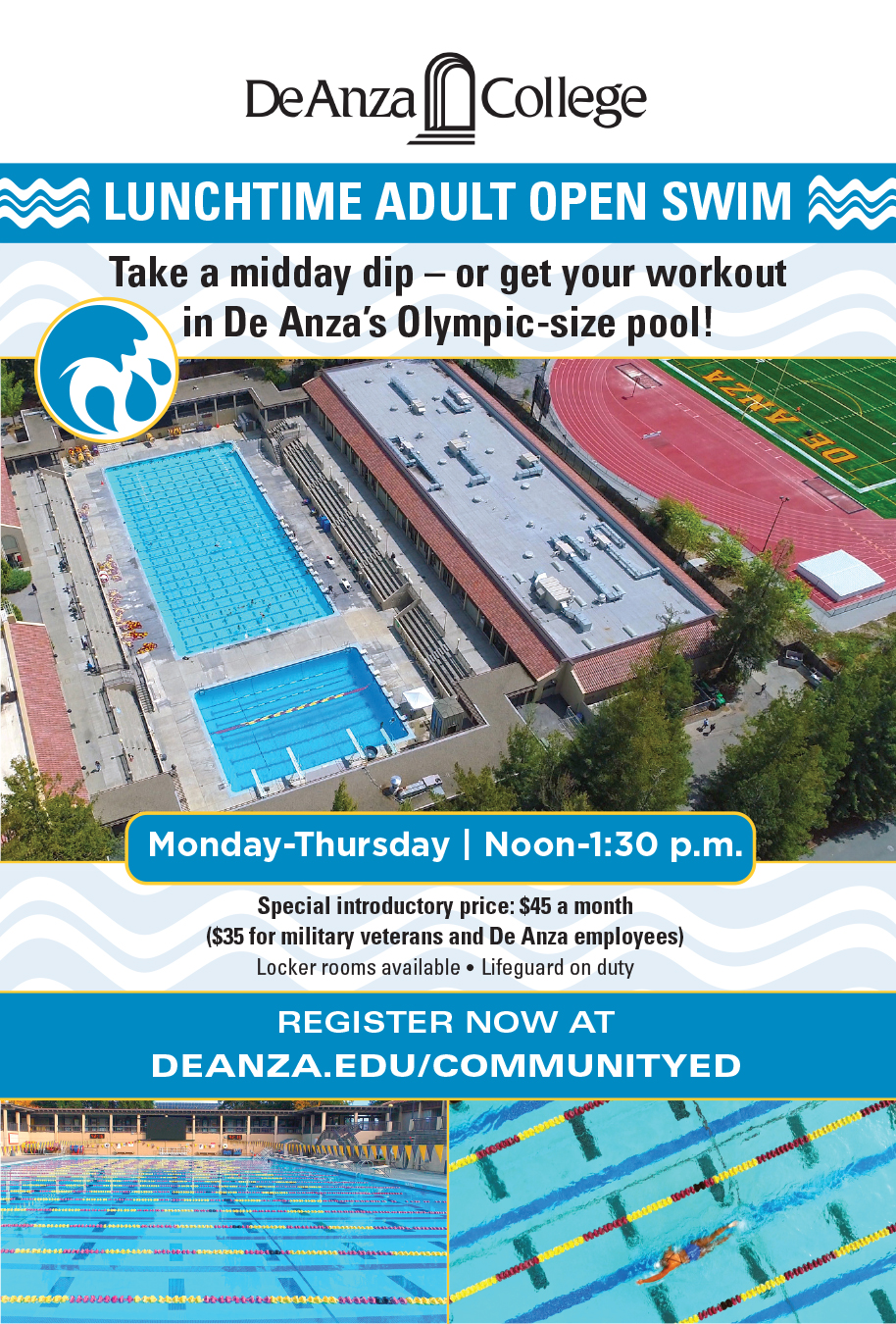 This is the official De Anza College Athletics website. Any other website containing information regarding De Anza Athletics is not sanctioned by De Anza College and may not contain accurate information.