De Anza College's Fitness Program
for Students with Disabilities

APE Mission Statement
The Mission of the De Anza College Adapted Physical Education (APE) program is to provide students with disabilities accommodations necessary for equal and effective participation in Physical Education experiences.

Adapted Physical Education (APE) is located in the Physical Education and Athletics complex. (campus map)
GYM - PE 13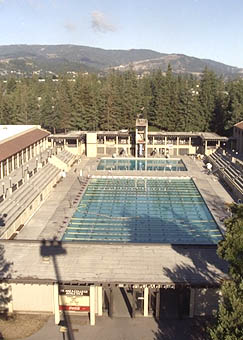 POOL - East End
Off campus classes are held at the Cupertino Senior Center. (See Off-Campus APE)


APE Office: Located in the DSPS Division Office - AT 209 (campus map)
Phone: 408-864-8885

Office Hours: Mon-Fri: 8:00 am - 5:00 pm (Closed for lunch and on School Holidays & Quarter Breaks)
VISIT OUR ADAPTED PHYSICAL EDUCATION CLASSES
Come to the APE Gym in PE 13
(campus map)
Monday-Friday *
10 a.m. - 2 p.m.
No appointment necessary but beware that
Lunch break hours vary -
call 408-864-8885 to confirm visit availability
* Except School Holidays & Quarter Breaks
QUICK LINKS
PROSPECTIVE APE STUDENTS
CURRENT APE STUDENTS
Registration
Contact the APE Faculty or staff or check Announcements/News
for dates and information
More Links

DE ANZA COLLEGE STUDENTS